Hartley, aka Daisy & Button w/ Oval Panels, aka Panelled Diamond Cut & Fan


Rose in Hartley watercolor by Hannah Elaine

---is a product of the Richard & Hartley Glass Co. ofTarentum, PA ca 1887.
It was reissued by the U S Glass Co as their pattern #900
after the consolidation of the glass companies ca 1891.
Hartley, as the pattern is most commonly known, is a beautifully designed set of dishes on the more elegant side of the Victorian tastes. It was produced in clear, amber, sapphire blue and canary/vaseline. It can be found plain or occasionally with copper engraving.

A set of goblets in each of the

colors originally produced.



An amber creamer,
2 clear wines, a blue celery vase
and a vaseline 10" plate.

Pattern Pieces known
Table Set - 4 piece
Celery Vase
Goblets
Bowls, footed
Bowls, flat
Compote, open
Cake Stand
Sauce dishes, footed
Water Pitcher
Milk Pitcher
Relish tray
Plate 10"
Tumbler
Wine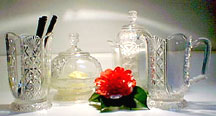 The 4 piece table set is used by the present
owner now as it was 120 years ago!
Hartley sets a beautiful table
by mixing all the colors.
Who sez you have to only drink
from goblets? They hold ice cream too!