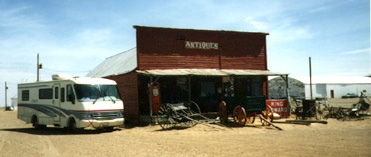 The PatternGlass.com Story
As with so many antiques dealers, beginning a business was the furthest thought from our minds when we headed south to DisneyWorld in our old motor home in 1989. The trip home included a visit to relatives in Louisiana and as part of the local scene, we were treated to some great antiques stores. Elaine's Mother had inherited a few pieces of old glass in a pattern she called "Feather" so having nothing better to do in antiques stores, we looked for some of that glass. Bill found a wine glass in Feather for $5 and that made his day.
Our next antique excursion was to a ghost town in northern New Mexico where we splurged about $3 on a couple more little wine glasses which appeared to be similar to our Feather ones. As we cast around for more "old glass" dishes, the "hunt" became fun, the "finds" became a challenge to identify and money spent for the stuff became almost like monopoly money! As we bought to learn, we now consider some of our early purchases as "tuition". We finally identified our ghost town wine glasses- they are the Greentown Cord Drapery pattern.
"The Hook" gradually set in, our trips & vacations became nothing more than compulsive treasure hunts, our old motor home was replaced by a new Coach and our home became a museum of old glass. Enter the need to DO SOMETHING with all this glass and the Computer to do it with. With tons of help from our sons and inspiration from the folks at Replacements, Ltd., we launched a "Mom & Pop" pattern-matching service, put our meager inventory into a database and invited others to add their inventories to it. Then we advertised for collectors.
Today
Our computer pattern glass database has grown to some 35,000 pieces (a gross guesstimate),
our Want List includes pieces of over 600 patterns, and our circle of EAPG friends has expanded
around the world! Email expanded our correspondence horizons and now here we are,
8 Grandboys & 1 Grandgirl later-- on the World Wide Web!!!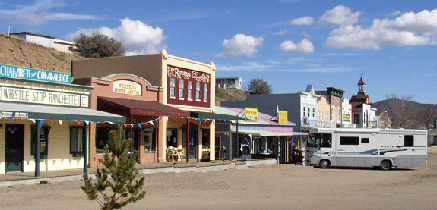 Future Vision
As technology collides with the past--- keep checking with us as we continue to bring our business into the 21st century with more on-line information and services including our Pattern Glass Store and ever-growing Pattern Glass School!