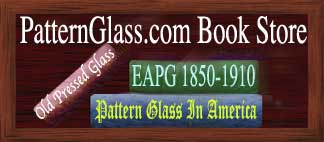 Books with our dangling Gold Medals are
considered very good for beginning collectors. Some of these
books are unfortunately out of print but worth it if you can find them.
Alert! This book, "Standard Encyclopedia of Pressed Glass 1860-1930" by Bill Edwards & Mike Carwile is LOADED with misinformation about Pressed Glass. We highly recommend that it NOT be used for reference but if you must use it, please download the HUNDREDS of corrections off our web site by clicking HERE & understand that there may be many more errors.
IF YOU WRITE ME AND ASK IF I WOULD RECOMMEND THE SUBSEQUENT BOOKS BY THESE AUTHORS - AFTER THE DAMAGE THEY HAVE INFLICTED ON THE EAPG WORLD ----- YOU NEED COUNSELING!
A HISTORY OF GLASS IN AMERICA FOR THE STUDENT:
1603 - 1907
The ultimate collection of information about American Glass
By Ruth Goff Van Goor
This book includes chapters on Early American Glass Manufacturing;
The Flint Glass Period 1830-1865 Lacy & Colonial period & Lime Glass;
The Crystal Period: 1870s Naturalism, Americanism & Figural patterns;
The Color Period: 1880s Realism, Classical, Geometric,
Colors! & Novelties;
The Gay '90s: Staining, New Colors, Commemorative pattterns;
And ---Art and other forms of glass!!!
Price $30 USD includes shipping & handling!
Ruth can be reached at 906.289.4200 or Ruth@dapple-gray.com
She accepts checks, credit cards & money orders but not PayPal.
Send Check or Money Order to: 13640 M-26; Eagle Harbor, MI 49950
PLATES & DISHES
Bread & Butter - OF COURSE!
A new & fun book by Gloria Dobbs & Courtney Sloan
and Winfred & Lee Ona Prier
There are 188 pages with many colored photographs & an INDEX!!!
This is book to curl up with and enjoy looking at the pictures!
AND it is very useful for helping with pattern identification
not only for plates and butter dishes but for other forms as well.
Retail Price $35 includes shipping in the USA.
For an autographed copy, write to:
Dobbs/Sloan; P O Box7626 Shawnee Mission, KS 66207
Or you may order books from:
Museum of American Glass; P O Box 574 Weston, WV 26452
Or online: www.MagWV.com; glassmuse@gmail.com 304.269.5006
CAMPBELL, JONES & Co.
The Tableware Products of a 19th Century Pittsburgh Glass Maker By Sid Lethbridge.
We love the look and feel and ease of use of Sid's books. The spiral binding makes it so comfortable to use and his writing style is interesting and easy to read. One of the hallmarks of his books is the use of many, many reproductions of factory printings that compliments his very good black and white and color photos. And it has a Pattern Index - YAY!
Retail Price $30 USD / $35 CDN
Shipping & Handling $5 USD / S7.50 CDN
Please forward Check or Money Order to: Sid Lethbridge;
2995 Delia Crescent; Brights Grove, ON, NON1CO, Canada.
Sid.Lethbridge@sympatico.ca



ETCHED PATTERN GLASS -
Acid Etched Goblets and Tableware of the 1880s
by Sid Lethbridge is the new "must have" book
for EAPG sellers and collectors.


This 200 page book is a treasure of etched EAPG patterns, etched EAPG goblets and pattern glass decorated with etchings. We can guarantee that you will be seeing most of these beautifully photographed specimens for the first time.


Etched Pattern Glass may be purchased for $30 plus shipping & handling from the author, Sid Lethbridge. Details can be obtained
by emailing him at sid.lethbridge@sympatico.ca
or at his web site, HERE

.
MILK GLASS/ PATTERN GLASS Book 1
The Blown Molded Patterns by Brad Gougeon
You do not want to miss having this new book only 1,000 copies of which are printed in this First Edition. The subject matter covers "opaque" glass which includes true & translucent opaque and some "cased" glass patterns. In 99 pages, he covers attributions, colors, patterns (you won't believe how many!) & reproductions in brilliant organization starting with factories. It is a soft cover volume on quality paper & the photography is fabulous. Buy it for $20 from:
Brad Gougeon, 2513 E. Pineoak Ct.; Midland, MI 48642 or
send Brad an EMAIL
GLASS TOOTHPICK HOLDERS
We are asked repeatedly what are the best books for identifying pattern glass. It is our opinion that for photos, catalog reprints, research, authenticity and ease, these two books by Neila & Tom Bredehoft and Jo & Bob Sanford top the list. They are first and second editions. The second edition is available on Amazon.com.....get it.
Jo & Bob Sanford have teamed with Barbara & Jim Payne to share their knowledge of "The Artistic Glassware of Dalzell, Gilmore & Leighton"! The Sanford's always fact-checked reputation is carried out with many, many photos of pieces of patterns not seen anywhere else.
Available from Schiffer Books, phone 610.593.1777; EMAIL or www.schifferbooks.com
| | |
| --- | --- |
| Faith Corrigan has completed the first in her anticipated series on glass bread plates to be collectively titled, BREAD, GLASS & HISTORY. This book, is subtitled GLASS OF FAITH & BEAUTY. In the 108 pages of text, Corrigan has strayed from the EAPG era later into the 20th century & across the pond for some British made examples of bread plates. This conveniently sized 6" x 9" paperback has black & white photos on almost every page. It can be purchased for $25 + S&H by clicking HERE. | |
| | |
| --- | --- |
| | WESTWARD HO, originally named PIONEER is one of the premier patterns of EAPG, having been intricately fashioned by the mold makers at Gillinder & Sons during 1879 in Philadelphia. In this 8.5" x 11" paperback, Leonard Farchione treats us to 60 of the most fantastic black & white photos of glass we've ever seen and includes the complete pattern line! Reproductions are listed but unfortunately not described. He has, however, provided some reproduction information for the PatternGlass.com Reproduction web site (under construction). This remarkable book can be purchased for $29.95 by sending an EMAIL. |
Here is a new, beautifully illustrated book, American Pattern Glass Table Sets! It combines Gene & Cathy Florence's literary skills and Danny Cornelius & Don Jones' huge EAPG collection. Of course PatternGlass.com is happy that they made
note of the destructive nature of "sun purple" glass!
It covers many transitional patterns c 1910, or a little later, that are becoming very popular and that are not covered elsewhere. Buy it thru Collector Books, or EMAIL . Cost is $24.95, plus $4.99 shipping. Danny & Don will autograph each book sent.
Finally a book on Indiana Glass! Craig Schenning's new release, A CENTURY OF INDIANA GLASS from Schiffer Books is out and an autographed copy is available HERE
for $24.99 + $4.99 shipping.

Craig also has CD's of old Lee Catalogs for sale. Contact him by email by clicking HERE
VICTORIAN GLASS NOVELTIES
is a fabulous book by Jo & Bob Sanford
Here is possibly your first chance to see some of
the interesting and fun glass novelty items with attribution information and a value guide.
Available from Schiffer Books.


Editor James Measell and the National Greentown Glass Association announces a comprehensive book on Greentown. This 224-page publication pictures more than 1000 pieces of Greentown glass in full color & provides a detailed history of the Indiana Tumbler & Goblet glass factory that flourished from 1894 to 1903. ALL the proceeds from this book go to the NGGA for their projects. Greentown Glass: A Collector's Guide is available from the National Greentown Glass Association, Box 107, Greentown, IN 46936. A package deal of the Jim's book, his latest repro guide and the latest price history is available for $25.00 plus $5.00 shipping. (Indiana residents add tax).
Go HERE to read about Greentown on this web site.

Field Guide to Pattern Glass
by Mollie McCain
A great book for identifying patterns available at most book stores.




Reilly & Jenks' 2nd edition of their pattern glass "bible",

EARLY AMERICAN PATTERN GLASS,

Collector's ID & Price Guide.

Buy it for $22 + shipping by email

HERE

.

Greentown Glass Company/ History of the Indiana Tumbler & Goblet Company/ Works by Bing Hilton
Published in 2002, Can be ordered from the Greentown Glass Company PO Box 771 Westfield IN 46074-0771

Collector's Guide to American Pressed Glass 1825-1915
by Kyle Husfloen
An excellent over-view of EAPG. The BEST for newbies.

Bryce, Higbee and J. B. Higbee Glass
by Lola & Wayne Higby

Pattern Glass Mugs
by Mordock and Adams

Collector's Encyclopedia of Milk Glass
Betty & Bill Newbound
Westmoreland Glass : Identification and Value Guide
by C. W. Wilson
Warman's Pattern Glass
by Ellen Tischbein Schroy

Glass Toothpick Holders : Identification & Values
by Bredehofts & Sanfords

Dugan/Diamond : The Story of Indiana, Pennsylvania Glass
by Heacock, Measell & Wiggins

Wheeling Glass 1829-1939
by Baker, Eige, McCluskey, Measell, Spillman & Wilson

Albany Glass: Model Flint Glass Company of Albany, Indiana by Ron Teal, Sr..

Findlay Glass : The Glass Tableware Manufacturers, 1886-1902
by Measell and Smith
5,000 Open Salts Comprehensive Price Guide
by Wm. Heacock & Patricia Johnson

Early American Pattern Glass
by Alice Hulett Metz

Much More Early American Pattern Glass
by Alice Hulett Metz

| | | | | | |
| --- | --- | --- | --- | --- | --- |
| | | | | | |
| Identifying Pattern Glass Reproductions by Jenks, Luna & Reilly | Early American Pattern Glass 1825-1910 by Reilly & Jenks | Old Glass by Wm. Heacock | Northwood The Early Years 1881-1900 | Northwood The Wheeling Years 1901-1925 | |
And of course all of the out of print books below by Wm. Heacock are valuable
tools for learning. The photos are great but there are technical errors in them all
due to discoveries made in the 20 years since Mr. Heacock passed away.
1000 Toothpick Holders
Rare & Unlisted Toothpick Holders
Book 6 Oil Cruets From
A to Z
Book 4 Custard Glass from
A to Z
Book 7 Ruby Stained Glass from A to Z
Book 5 U S Glass from
A to Z
| | |
| --- | --- |
| | A new book Oct. 2004 by Dennis L. Prince & Lynn Dralle has a section on Early American Pattern Glass by PatternGlass.com |

Be sure to visit our
Used Book Store
for used & out of print books.