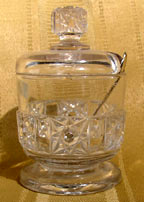 The Bellaire Goblet Co. made a cov'd mustard/ condiment jar in their STARS & BARS aka DAISY & CUBE aka Bellaire goblet #600 pattern ca 1886 $44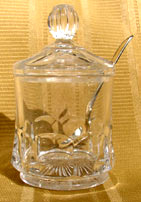 Duncan Miller made this cov'd mustard or horseradish container in their BLOCKED THUMBPRINT BAND pattern ca 1900. $42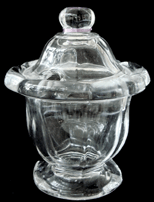 This little covered mustard/ condiment pot with a slotted lid is from a date uncertain to us. It is beautiful glass & looks like Heisey but we've not attributed it. $35

In the early 19th century Colmans of Norwich, England became the world's first mustard millers - milling the heart of the mustard seed to a fine powder, mustard flour - and they established mustard as an industrial food ingredient.
Alvina Breckel remembers that when she volunteered as a "pioneer woman" at the Chicago Historical Society, she learned that without refrigeration, meat preservation methods didn't produce such a tasty product. So heavy salting and condiments such as mustard were helpful in covering up the slightly/ strongly rancid taste of meat.
Ever ready to meet the container and serving needs of Victorian Americans, many of the companies that made pattern glass created small containers with slotted lids in order that these tasty condiments such as mustard and horseradish would be stylishly served.
We show a few examples here ranging in production from about the 1880s to the first decade of the 20th c..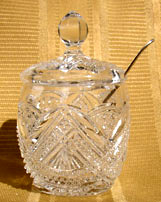 Heisey made this cov'd mustard in their FANCY LOOP w/ original lid aka #1205 pattern ca 1898.**SOLD**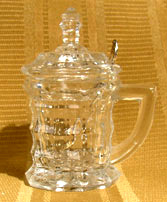 This little mug with a slotted lid (which makes it into a condiment jar)
is named FLARED BOTTOM SQUARES.
$42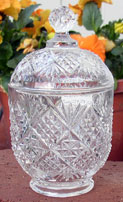 Model Flint Glass Co. of Albany made the Peerless pattern ca. 1896-1902. It has the slotted lid. $48