Once upon a time in America - say about the latter part of the 19th century, there were many glass makers who fashioned sets of glass dishes for the everyday Victorian Home. Some of the sets of dishes, we are told by Mrs. Ruth Webb Lee, included "water sets", as they were known in the trade, and some of these water sets included a bowl.
In her 1931 book, Early American Pressed Glass, she called all of these bowls "finger bowls". Later on in her 1944 book, Victorian Glass, she illustrated some water sets. These sets, see below, all included a water pitcher, a tray and 2-4 drinking vessels and some included a piece she said the old glass factory term for was "waste bowl". By this time, she did not believe that these bowls were usually intended to be "finger bowls" although she characterized at least one as a finger bowl!
| | | | |
| --- | --- | --- | --- |
| | | | |
| Mrs. Lee does not name this bowl..... | she calls this a finger bowl.... | she calls this a waste bowl.. | and she calls this a waste bowl! |
| | |
| --- | --- |
| | And to add a little more intrigue, here is an ad from an 1885 catalog for a fancy Garfield Drape (here called Festoon pattern) water set and the little bowl is called a "slop bowl"! |
To add to the historical confusion, other authors are equally equivocal about their characterization of these mystery pieces and none of them that we could find ventured into a conjecture as to their intended purpose.
Scroll down the red text for the rest of the story.....
| | |
| --- | --- |
| | |
| This is a water set in vaseline glass in a pattern unknown to us and..... | ..a close up of its .......bowl. |
So! What were these bowls originally made to do? Why have a 5" bowl as a part of so many water sets? Well, years ago, PatternGlass.com began to query pattern glass folks and here were some of the answers we got.....
DAISY & BUTTON w/ V ORNAMENT aka VAN DYKE
is a product of
A J Beatty & Co. ca. 1886.
It is 4 1/4" diameter at the top
and 3" high. In clear $42
DAISY & BUTTON WITH
CROSSBARS aka MIKADO is a Richards & Hartley product ca. 1885. It is 4" across the top & 3" tall. $48
....they provided a receptacle for the rinds of lemons. But did all water sets just serve lemonade? We didn't think so.
LEAF & FLOWER is a splendid pattern by Hobbs, Brockunier & Co. ca. 1891. The design (see HERE) is set off by an acid finish to the surface of the glass. $45

DAISY & BUTTON WITH
CROSSBARS aka MIKADO is a Richards & Hartley product ca. 1885. It is 4" across the top & 3" tall. $55
Well, said others, they were used to pour out the dregs from the pitcher or drinking vessels before pouring another round. So were all liquid refreshments so yucky that they had a big ol' sediment? Surely not.
This is a pattern called SHIELD BAND with engraved fern
& berry decor. $45

VICTORIA is a great early Fostoria pattern ca. 1890, their pattern #183. See another view HERE. Marked "PAT'D" in the base. $55
Others postulated that the bowls were to set under drinking vessels as they were filled to catch the drips from unsteady hands of Victorians. But.....
CURRIER & IVES was made by the Co-Op Flint Glass co. ca. 1880s.
The pattern is quite rare in any form in any color. It is 3 1/2" high and 3 3/4" OD. $68

A dainty color-washed pattern called
Flower & Pleat aka
Clematis was made by Crystal Glass Co. ca. 1892 $48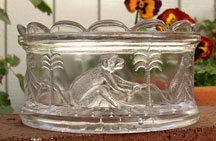 Even Monkeys were immortalized in a pattern of EAPG!
Two top scallops have been repaired. $125

....none of these theories were convincing to us so we kept searching until finally we asked a "grand dame" of pattern glass who huffed with total aplomb -- as though she had been there--
"The bedroom water sets had slop bowls for cleaning teeth since there were no indoor bathrooms and no running water."
Of course! The water set bowl was the perfect solution to the need for a receptacle for ahhhh.... toothpaste waste.
So the Garfield Drape water set was right! And maybe now we know why the use was not memorialized in any of the nice Victorian literature.
Now, scroll down to see more for sale.
SHIMMERING STAR
is a perky pattern made by a
glass company in the late 1800s.
It is 4" diameter at the top &
3 3/4" tall. $38

MELROSE - here's my favorite
pattern again. aka DIAMOND
BEADED BAND and engraved
even! Higbee made it ca. 1889.
4 1/4" across the top. $48
POLKA DOT called a "Finger Bowl", most likely by Hobbs Brockunier
ca. 1880s. They are 4 1/2" across the top and 2 1/2" high.
These are fine enough to be blown.
The amber one is seen HERE on the inside & seen HERE from the base. $38
The blue one is seen HERE on the inside & seen HERE from the base. $45
COTTAGE aka Finecut Band aka Dinner Bell is an Adams' Glass Co. pattern ca. 1887. $48
FINECUT & PANEL aka
Bryce Bros. #260 made by those
Bryce Bros ca. 1886. $46

WILDFLOWER aka ADAM'S
#140 was made by the Adams'
Glass Co. ca. 1874. It has an
internal fissure in the side which
can't be felt but see it HERE. $36
BAKEWELL'S RIBBON aka
FROSTED RIBBON was made by Bakewell Pears & Co. ca. 1870.
It is 4 1/2" diameter at the top
& 3 1/8" high. $52
An amber FINECUT with
Optic Panels design of unknown
maker but probably 1880s. It is 4 1/2"
in diameter and 3 3/4" tall. $45
HEAVY PANELLED FINECUT
By Geo. Duncan & Sons ca. 1885.
It is 4 1/2" diameter at the top and 2 3/4" high.

**SOLD**
CORONA aka Sunk Honeycomb by Greensburg & McKee ca. 1894-1901.
$35

TREE OF LIFE pattern in this form was made
by the Boston Sandwich Glass Co. ca. 1870s.
Believe it or not, despite the photographic illusion, they are all exactly
the same size: 4 3/4" diameter at the top and 2 7/8" tall.
We have 2 clear ones, seen HERE. One has no damage whatsoever & is $48.
One has only a small bruise on the top edge seen HERE so it is $38.
The green one is $85. An amber one is $75. The blue one is $78.
These prices do not include the cost of shipping & insurance.
Learn how easy it is to purchase from PatternGlass.com by clicking HERE.