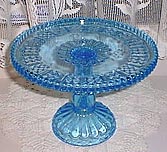 A sapphire blue 10" cake stand in a pattern known as COTTAGE; FINE CUT BAND; or DINNER BELL by Adams & Co. ca 1870s.
In addition to being made in crystal clear glass, some stands were offered in colors such as sapphire blue, emerald green, amethyst, vaseline (canary), amber, and apple green and with a variety of decor such as engravings, etchings and frosted or color flashed portions. Colored cake stands are difficult to find today.
These popular serving pieces were sold as cake plates on a standard or as salvers identified by pattern numbers or plain names. Collectors have since given patterns more eloquent descriptive names.