Doric: (aka Crowsfoot) Characteristics: scalloped top rims on spooner, celery, pitchers,and toothpick; plain, unpatterned collar bases; and the design on the inside of the bases is a scalloped, outlined "floral"pattern. If the piece has a straight rim (compotes, covered bowls, butter dish), the space between the rounded feather tops is filled with a 3-pointed bird track, or "crow's foot". This variation includes all stemmed pieces in the pattern and all green and amber-stained pieces.This variation is of higher quality glass.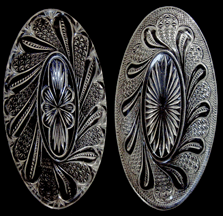 Finecut & Feather: Characteristics: straight rims on all pieces, with the space between the rounded feather tops filled with cross-hatching, or "finecut"; collar bases have a repeat of the feather motif (often poorly detailed); the inside base motif is a rayed star, with rays originating at a center point.
The only reproductions we know of are some obviously new sapphire blue and amber (possibly other colors) goblets & vases.