The pattern was originally made in clear, amber, blue and canary (vaseline) and all pieces in color are extremely rare and very expensive.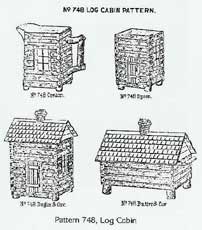 Four piece table set
Pattern Pieces known
--Bowls
--Four piece table set
--Compotes 4", 6", 7" & 8"
--Marmalade, cov'd
--Pitcher, water
--Sauce dish, flat
--The log cabin Lutted's Cough drop cov'd bowl has also been attributed to Central. It has been widely reproduced.