The Pattern of the State of OREGON
aka BEADED LOOP

by Steven D. Skeim
| | |
| --- | --- |
| Number 15073 or the State of Oregon Pattern is the original name given to this pattern by the U.S. Glass Company. The number 15073 is pressed into the base of some of the water pitchers. The pattern is also well known by collectors and dealers as Beaded Loop, the name given by Ruth Webb Lee. | |
| | |
| --- | --- |
| | This name appropriately describes the design of the pattern. It includes a string of small beads that loop at regular intervals. The area between the loops is filled with a type of fine cut. The loops themselves encompass a large oval-shaped jewel. With the exception of the oval dishes, the design is completed by a row of thumbprints. Some flat pieces have a design that resembles a star pressed in the base. At right are 3 Oregon 4 1/4" diameter flat sauce dishes, 2 are face up and one is turned over to show the base. |
As with any pattern the design may be adapted slightly to accommodate the shape of the piece. I prefer to use the name Beaded Loop to avoid confusion with Richard and Hartley's Skilton pattern, which is also called Oregon. I have found that most collectors prefer Beaded Loop but most dealers use Oregon.
The celery vase is shown on the left and the goblet is shown at right.
In the future other trade names used by manufacturers or wholesalers may surface, but I would not recommend using such names since the pattern is already well known by two names.
The United States Glass Company produced Oregon as part of its states series. The pattern was most likely also produced at an earlier date by one of the smaller glass firms that became part of the U.S. Glass Company as a result of the merger.
On the left is the bread plate
Oregon was the twenty-sixth state pattern made by the U.S. Glass company with production beginning in 1901 and continuing until around 1910 (Reilly 10). Again, it is probable that it was produced at an earlier date by a predecessor of the U.S. Glass Company.
At right are the tiny little carafe shaped vase and the handled mug.

| | |
| --- | --- |
| | Beaded Loop was produced from a good quality, nonflint glass. Some pieces can be found with a slight grayish tint to the glass, lending further credence to manufacture by several companies. It can be found in clear and clear with gold. The latter type typically only in goblets. Most reference sources indicate that the pattern is available in ruby-stain. Bill Heacock states that the pattern is "not known in ruby-stain," and later adds it would "be very rare if found in ruby-stain" (Heacock 164-65). I personally have not seen an original piece of Beaded Loop with ruby stain. The pattern has also been reported in green, but I have not encountered any pieces in that color (Reilly 59, Mordock 62). The cov'd sugar bowl is at left. |
List of Known Pieces
bowls, round; 6 1/4" d X 2 1/4" h;
8" d X 3" h
bread tray, oval 11 1/4" X 7 3/4"
butter dish flat 7 1/4" d X 5 1/4" h w/lid
cake stands 8" d X 5" h;
and 8 3/4" d X 5 3/4" h
carafe 2 3/4" h X 3 3/4" d
celery vase 6 3/4" h X 4 1/2" d
compote round, high standard covered
5" d X 4 1/2" h 7 1/4" h w/lid (jelly)
6" d X 5 1/2" h 9" h w/lid
7" d X 6 1/2" h 10" h w/lid
8" d X 7" h 11" h w/lid
true open (shallow bowl)
7" d X 6" h
8" d X 5 3/4" h
9 1/2" d X 6 3/4" h
creamer, pressed handle
flat 4" h X 3 3/4" d
cruet, pressed handle 5" h w/o stopper
dishes, oval
7 1/4" l X 4 3/4" w X 1 1/2" h
9 1/4" l X 6 1/4" w X 1 3/4" h
10 1/4" l X 6 3/4" w X 2" h
goblet 6" h X 3 1/2" d
mug, pressed handle 4" h X 2 3/4" d
olive dish, oval 7 1/2" l X 4" w X 1 1/4" h
pickle dish, oval 9 1/2" l X 4 1/2" w X 1 1/4" h
a) plain design in base
b) COMPLETE HOME FURNISHERS
CARSON FURNITURE CO.
1825 CARSON St. SS. PITTSBURG
C) THE DENVER FURNITURE & CARPET Co.
Arapahoe
THE LITTLE-AT-A-TIME-STORE
Street
JUST AROUND THE CORNER FROM THE POSTOFFICE
Pitcher, pressed handle milk 6 3/4" h X 4" d
water 8 1/4" h X 4 3/4" d
salt and pepper shakers 3" h X 1 1/4" d
sauce dish flat 3 1/2" d X 1 1/4" h
4" d X 1 1/2" h
footed 3 1/2" d X 2" h
spooner flat 4" h X 4" d
sugar flat 4 3/4" d X 4" h 6 3/4" w/lid
footed 4 3/4" d X 5" h 7 3/4" w/lid
syrup pitcher, tin lid, pressed handle 5 1/2" h (up to the metal lid)
toothpick holder 2 1/4" h X 2 1/4" d
tumbler 3 3/4" h X 2 3/4" d
wine 3 3/4" h X 2" d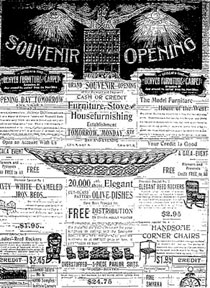 A
The Denver Times
ad showing a Beaded Loop
olive (relish) dish given away in 1901.
Other pieces that I have seen but do not have available to obtain measurements include: the footed creamer, the footed spooner, and the flanged butter dish. Pieces for which there is evidence of in trade catalogs (note earlier reference) but I have not personally seen include: the English butter dish, the 7 inch bowl, the 10 inch cake stand, the horse radish (handled mug with a notched cover), and the 12 1/2" oval dish. I would like to hear of (and possibly purchase) these and any other unlisted forms. I would be especially interested in colored pieces and relishes with other advertisements.
| | |
| --- | --- |
| | This reprint from the original U S Glass catalog re U S Glass #15073 pattern is compliments of Darryl Reilly and Bill Jenks of Reilly and Jenks from their book, U.S. Glass The States Patterns. Kingston, PA: Author! Author!, 1998. |
Reproductions
The flat covered sugar bowl was reproduced by the Imperial Glass Corporation, sometimes bearing the company's familiar "G" over an "I" logo. These sugar bowls were made in clear, clear with a pale ruby stain, iridescent, and in a myriad of carnival colors. A silver plate base was attached to some. Reproductions lack the sharp, crisp details of the originals, and the design is flat instead of in high relief. This can be detected by feeling the fine cut portion of the design. On old pieces this area feels sharp, whereas on reproductions it feels smooth, almost oily. The row of thumbprints at the top of the base is another clue to help distinguish reproductions. On old sugar bowls the thumbprints are deep; on new sugar bowls the thumbprints are shallow and more square in shape. The finial on the lid is hollow on original pieces and solid on reproductions. The final evidence is the beads. They are small and square on old pieces, large and round on reproductions. In general, the glass from which reproductions were made simply looks new. See Identifying Pattern Glass Reproductions for specific dates and colors of reproduction sugar bowls.
Rumors have circulated claiming that the goblet was also reproduced; however, I haven't come across any that I would question, nor has any conclusive proof been brought forward.
In addition to rumors of reproduction goblets, Reilly and Jenks suggest in their book U.S. Glass The States Patterns that the flat butter was reproduced (59). Unfortunately, they did not provide a list of discrepancies or offer any further proof that the piece has indeed been reproduced.
About the Author, Steven Skeim, proprietor of
Steven D. Skeim Antiques
Beaded Loop is actually my mother's pattern. She began collecting it in the early to mid 1940's. My grandmother enjoyed going to farm auctions and took a liking to early glass. Therefore, she bought a copy of Ruth Webb Lee's Early American Pattern Glass, which my mother often perused. Then one day while washing dishes at church, she noticed a pitcher that she recognized as being in the book. It turned out to be a Beaded Loop water pitcher. The rest, as they say, is history.
Beaded Loop is an attractive pattern that groups together nicely. It consists of a wide variety of pieces, including some interesting items. Probably the most unusual is the small carafe. I do not know of another pattern that has that particular shape and form. It is not shown in any trade catalogs of which I am aware. I wonder if it was a give-away that had some type of disposable lid and was filled with baking powder or jelly. The pattern also has three different butter dishes: the flat, the flanged, and the English. The final items that help make the pattern unique is the advertising relishes.
For the most part, Beaded Loop can still be found and at reasonable prices. Of course there are pieces that I am still seeking, namely the horse radish and relishes with other advertising (if they exist). The most difficult pieces to find in my experience are the covered compotes. The ones in my mother's collection are the only ones of which I know. Next in scarcity are the toothpicks and syrups, although with patience they can be obtained. Collecting wines, tumblers, mugs, and footed sauces in sets of eight takes time.
Even though Beaded Loop is not my pattern, it certainly played an integral part in my interest in pattern glass. Seeing Beaded Loop at home, Barley at my aunt's, and toothpick holders, green Croesus, and other glass at my grandmother's house, it seems I was destined to develop a love of Early American Pattern Glass.