PatternGlass.com
Where Early American Pattern Glass
ca. 1850-1910
is Taught and Sold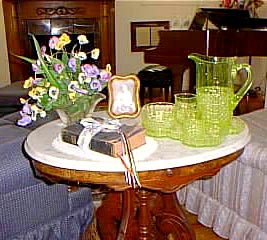 Bill & Elaine Henderson
Albuquerque, NM 87110
If you need to reach us by snail mail,
you may email us for our address.
Click on the mailbox below to send us an email.
If your email program will not allow you to email from a web site
just address your email to Elaine@PatternGlass.com

PLEASE NOTE: If you are going to ask us for an ID of your glass,
please FIRST read our "RULES FOR ID" HERE.
Requests for ID that do not comply with our Rules will be deleted unopened.