What is EAPG (Early American Pattern Glass)?
Early American Pattern Glass, also known simply as "pattern glass", "pressed glass", or Victorian glass, is pressed glass tableware (& some related novelty glass items) made during the Victorian period ca 1850-1910, only in America, in goblets and in "sets" such that all of the pieces in the set match in design. These sets of dishes were made by hundreds of glass factories- some more long-lived and more well-known today than others. The number of patterns of EAPG has been estimated to be as high as 3000 however in some of those patterns only a few forms (or items) were made. The number of patterns made in extensive sets was probably closer to 1000. In the 3rd and 4th decade of the 20th century, sets of pressed glass dishes were made also and those are generally referred to as "Depression Era Glass".
EAPG was manufactured in beautiful clear crystal glass & in a limited number of colors. As a testimony of its lasting beauty and appeal, many reproductions of the early patterns are on the market. These can lead to confusion on the part of beginning EAPG collectors and underscores the importance of making all antiques investments through reputable dealers.
While the wealthy of that period would have used blown glass and china from abroad, this "pressed ware" as it was called commercially, were the dishes used by the "everyday housewives". Despite our romantic notions about those times, life was very difficult for these Victorian Era ladies who endured the Civil War, reconstruction, Westward Expansion, & dread diseases and who enjoyed none of our modern "conveniences" such as running water or electricity.
Unfortunately for the unsuspecting beginning collectors there are also charlatans who are engaging in the ruinous practice of turning pattern glass what they call "sun purple". You may go HERE for a full discussion of this serious situation.
Whether you have begun a collection of EAPG because of your sheer love of the glass & its historical roots in America or because you have some pieces handed down through the generations, we hope you will use it, enjoy it & remember with fondness our early American settlers & pioneers who created our great Land grounded in tremendous personal strength and solid spiritual values.
Since she reigned during most of the period this glass was made,
click
HERE
for a sweet story about Queen Victoria.
Assembled here and below are some Early American Pattern Glass toothpick holders in a variety of patterns & colors and made from a number of different kinds of glass, including opalescent, custard glass, and cased glass.
Visit the Pattern Glass School for developing stories on these variations in EAPG. Be sure and visit Granny's Pointers & Pitfalls page created especially for new collectors.
You can purchase many of these toothpick holders in our Pattern Glass Stores.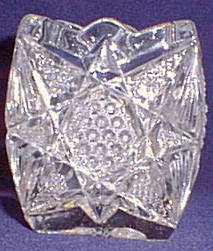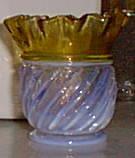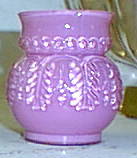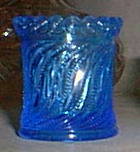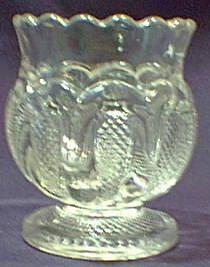 Most of these toothpick holders can be purchased by going HERE.