glasses (other than mirrors), or mantle-piece furniture. It may have been too insignificant of an article to identify specifically. It was important at that time to own a holder for spills, but not necessarily one made of glass. From 1700-1870 spill holders were made of wood, iron, earthenware, glass, and even wall paper. The nomenclature depended on what the purchaser intended when they bought it and roughly what year. From 1860-65 was a huge transitional period in the evolution of lighting and accessories.
This same period saw a convergence of multiple issues that impacted the demise of the pattern glass spill holder such as mid-Victorian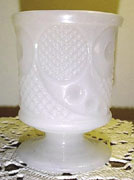 Clambroth Horn of Plenty Spill Holder. A rare color in a popular pattern of 1850s and 60s.