Collecting is fun, but can be problematic as the collection expands & begins to take over one's residence space. A solution to that dilemma would be to collect something small... like, say, little tiny glasses! EAPG 'cordials' are hardly usable for anything except to collect OR to drink something you don't like and don't want much of! They hold only one ounce of liquid (about a 'generous' tablespoon); are just about 3" tall; & the bowl is hardly large enough for a big guy to get his thumb into.
| | |
| --- | --- |
| | The word 'cordial' is used very little today in the context of drinking vessels, the original meaning of which was an alcoholic drink. Sometimes called 'brandies' in original catalogs, as in many EAPG forms, the common name for the piece of glass really describes what went INTO it. |
'Toothpicks', for example, are really toothpick HOLDERS, and 'Cordials' really HELD cordial. ---and 'wines' HELD wine.
In a broad generalization about EAPG stems, 6" (+/-1/2") stems are called 'water goblets', 5" (+/- 1/2") stems are 'champagnes', 4" (+/- 1/2") stems refer to 'wines' and 3" (+/- 1/2") stems are 'cordials'. A few patterns made a 'claret' sized between the wine and champagne, an 1891 U S Glass Co. catalog shows no less than 5 sizes of stems in their ATLAS pattern and a Hobbs Brockunier catalog shows a 'brandy' which appears to be a smigeon shorter than its cordial.
Pictured above are examples of 3 forms in the US Glass CO's 1890s Florida State pattern aka Emerald Green Herringbone. There is no known champagne in this pattern, which was made in green and clear, but shown are the goblet, wine and a rare 3 3/8" tall cordial.
The earliest cordials we know of were flint glass but they are way too small to exhibit the characteristic 'ring' of other forms of flint glass.
Many of these little tykes are for sale in our
Cordial Store found HERE
!
| | |
| --- | --- |
| | |
| This HUBER pattern appeared in an 1850s catalog. It was made in plain and in the 'Vintage Grape' etching shown here. At 2 7/8" tall it is the smallest in our collection. | The ASHBURTON type pattern cordial above is quite crude and is probably from the 1860's by a factory unknown to us. |
A Bakewell Pears catalog from ca 1875 pictures a number of patterns in this form. They began to appear more often in the non-flint era of the 1880s. The Tarentum Glass Companies made cordials in several of their patterns in the 1890s including Heart with Thumbprint and those shown below:
| | |
| --- | --- |
| Harvard Yard | Royal Crystal |
Usually cordials were offered only in a company's best selling lines. Bill Heacock, who wrote extensively about EAPG, opined in 1981 that a conservative estimate of an extensive collection of clear pattern cordials would number less than 250. The catalog reprint in his Book 5 (U S Glass) shows almost 4,000 pieces of glass but pictures only 3 cordials.
| | |
| --- | --- |
| Custard Honeycomb | Ohio Inverted Thumbprint |
Colored cordials are few & far between. Above are 2 cordials by makers unknown to us. The 3" high custard glass cordial on the left above is a Honeycomb type pattern. And the vaseline 3 1/8" Ohio Inverted Thumbprint cordial on the right above was named by Bill Heacock & purchased as part of his colored wine & cordial collection.
Above are 2 more examples from Heacock's collection; a light green, enamel decorated "Ten Panel" cordial which more than likely belonged to a long ago forgotten decanter set. And a ruby-stained stem in the Roanoke pattern by the Ripley Glass Co. ca 1885.
| | |
| --- | --- |
| Feather aka Doric aka Finecut & Feather aka Indiana Swirl by McKee and other glass companies beginning in the 1890s. Other Feather forms can be found in emerald green and w/ amber staining. This cordial in color would be an exceptional find. | |
| | At left is Bellaire Goblet Company's Panelled Jewel cordial. Amber & blue are colors made in this pattern during the 1880's. |
| Finecut & Block aka King's #25 with pink stained blocks is a product of the King Glass Co. ca 1890. This pattern is found in clear and also with amber, blue & yellow-stained blocks. | |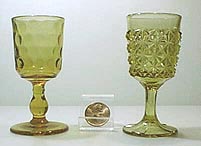 Two 3 1/4" amber cordials; Bennington Inverted Thumbprint on the left and Finecut on the right. Finecut pattern was made by Bryce Brothers ca 1885.
So, it's worth the effort to keep your eyes open for these tiny little vessels which, despite their size, can reap large treasure hunting satisfaction.
Many of these are for sale in our
Cordial Store found HERE
!


We have been unable to identify or attribute this cordial which
exhibits a block type pattern on the bowl and a
crosshatching design on the underside of the base.
If you are able to help, please email us.