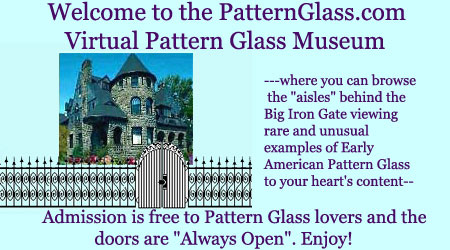 SKIP TO AISLE 1A 2 3 4 5 6 7
We've added a special Aisle of Childrens' Toy Glass Rarities HERE!
Here's a new and beautiful piece
of Richards & Hartley's 1885 pattern BLOCK & FAN. A heretofor
undescribed Bride's Basket shared
with us by Rebecca Reul.
We have the honor of showing this
rarest of all Findlay Onyx - a
magnificent stand lamp! It sold
at auction for $17,000 in 2010!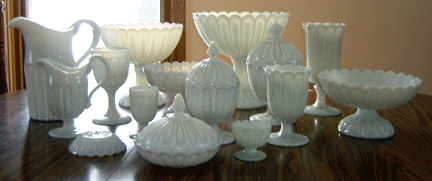 Get a load of this table full of Sandwich Loop aka Hairpin!!!!!!!
And in flint firey opalescent even!!!! That milk pitcher is the only one known to exist. Truth be known every piece here is a rarity! So never give up on your collections... Larry Oman didn't and we thank him for sharing. - Updated 3/09.
This is a rarity in Bakewell's pattern Frosted Ribbon c. 1870s.
The patterned glass bowl has a knob which fits down into the silver stand.
The center photo is a close-up of the action scent on the base.
One of the earliest patterns according to some, Giant Sawtooth. Mostly found in goblets. This form is seen in Metz II sans lid and called a "tumbler". The lid is 1" thick, fits in the opening almost airtight and has an applied handle which was simply a strip of glass folded over to form a circle then attached in its molten state to the top of the lid. The second photo shows the relative sizes of the "tumbler" and a goblet.

A rare form of the Westward Ho! (aka Pioneer) pattern from the famous Gillinder & Sons glassmakers ca 1879. This is a relish dish with handles fashioned of log cabins rather than the more common reclining deer. There was reported to be a platter made with these handles but it has not been seen to our knowledge.

This unusual and unreported contraption is a sugar dispenser. When the knob on the front is pulled out, sugar is released from the glass holder depositing a measure out the metal "spout". The glass fitting is molded in the pattern Rising Sun, a product of the U S Glass Company #15110 ca 1908.
A magnificent piece of flint glass in the grand old Horn of Plenty (aka Comet- McKee) pattern produced by the Boston Sandwich Glass Co. beginning in the 1840's. The handles were "straps" of glass applied while still hot to the molded body of the pitchers during this period.
| | |
| --- | --- |
| | |
| This may be a unique piece of pattern glass shared with us by Mary Jane Gamble. She was informed that in 1989 a fine collector and dealer gave the Sandwich Glass Museum a glass lamp that had some theretofore unnamed panels. He named the pattern "The Barlow Star" in honor of his friend Raymond Barlow, the co-author with Joan Kaiser of the renown books about the glass of Sandwich. This spill holder has the same pattern as the font of that lamp. | A water pitcher in the Findlay Flint Glass Co. pattern Stippled Forget Me Not (aka Dot) ca 1890. This pattern is rarely found in opaque white (milk glass) and this pitcher is the only one known to present-day factory researchers. |
Not a terribly rare pattern but this open sugar is amber, an unusual color in Queen Anne aka Bearded Man by LaBelle Glass Co. ca 1879.
A gorgeous flint 8" diameter covered compote in the Blaze pattern by the New England Glass Company ca 1869.
Blown Moorish Windows White cut to Pink font on pressed double step glass base. This base was produced in several colors and especially popular during the 1860s and 70s. A blown glass font connected to a pressed or pattern glass base was a commonly produced lighting device. Many glass houses might sell the fonts and bases separately for assembly by the retail merchant.

This was erroneously reported to be a newly discovered pink opalescent plate in Albany's Model Flint Glass Co. RIBBED SPIRAL pattern ca 1902. We are now told by the owner that made by a guy named Pio Valeques, in Cleveland, Ohio, sometime in 1982, who once made and sold glassware using old cast iron glass moulds he bought
at an auction in the 1970's!!!!

A very hard-to-find piece in the MICHIGAN pattern by U S Glass Co- one of the States patterns from the 1890s. It has the blush and gold decor.

No, your eyes are not deceiving you....this is a very scarce piece of the popular Bullseye & Fan pattern from the 1890s in the "depression" pink color. We'd like to find a lid for this sugar bowl.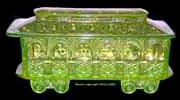 Take a good look at this covered piece, a stunning rarity in vaseline glass which we are showing you with the written permission of Dave Peterson.
From The SPINNING WHEEL'S COMPLETE BOOK OF ANTIQUES, EDITED BY REVI, PG. 341we know that its factory name is RAILWAY CAR, manufactured by BELLAIRE GOBLET COMPANY, Designed by Melvin L. Blackburn, patent date 10/19/1886. Color: Canary (uranium yellow) It was also made in blue & clear & probably amber. 13.5" X 5.5" by 7" tall.
| | |
| --- | --- |
| | |
| The size of this picture belies the size of this huge U S Glass Co BOHEMIAN pattern bowl- 11+" in diameter! It has the blush and gold decor- a real beauty from ca 1899. | The U S Glass Co also made this gorgeous cranberry & gold decorated juice set, with the pattern name of Bohemian Grape ca 1899. |
| | |
| --- | --- |
| | |
| This is a fine example of the Sandwich Pressed Grape Vine spooner or spill holder in clear glass w/ painted decor c. 1850-1865. Thanks to Alan Baginski for sharing it with us. | And Vicki Shovers has offered this photo of the rare vaseline Mavis Swirl pitcher made by Albany - Model Flint. Dave Peterson was kind enough to provide the ID for this rarity. |
Thanks to Sue Slight for sharing this
very hard to find table set in Alhambra,
one of the few sets made by the
Iowa City Glass Co. ca. 1881.
This is a milk glass pattern called The Family! Mama is a cov'd sugar, Daddy
is a cov'd butter, sister is a spooner & brother is a creamer. Talk about rare!
We will make this Museum entry a short lesson about ruby color and EAPG.
We all know that EAPG was frequently stained a ruby/cranberry color beginning in the late19th c. in America. Also, it was beautifully combined with vaseline color by plating
a layer of ruby colored glass inside the vaseline glass. The Hobnail creamer and Inverted Thumbprint cruet on the left are examples of 'plated rubina verde'. Dave Peterson has obtained an extremely rare tumbler that is Doyle's #150, aka
HOBNAIL. There is a Riverside pattern (National Star, OMN: No. 508) that is occasionally found in ruby stained vaseline glass, but this tumbler is the
first we've seen in any EAPG pattern other than Riverside's vaseline/ruby stained pattern. We thank Dave for sharing it with us. You can learn more about the
coloring of EAPG at Pattern Glass School on this web site by clicking HERE.
The Next Aisle button is going to take
you to a new surprise page of Victorian rarities and then you can continue
through the museum!
Additions to the Museum are always welcome!
Let us know if you have some rarities to share.